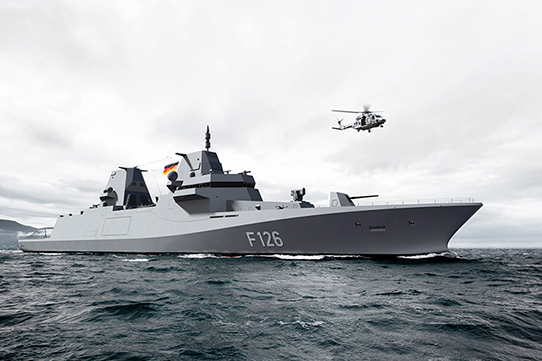 Tornesch, February 3, 2023. With the frigate type F126, the German Navy intends to put to sea between 2027 and 2030 with four new ships. To ensure that the bulkheads on the ships remain tight in the truest sense of the word, the Dutch shipyard Damen Schelde Naval Shipbuilding, which was commissioned with the construction, commissioned the North German medium-sized company Schoenrock Hydraulic Marine Systems as an important supplier after a long selection process.
The highly specialized supplier of hydraulically and electrically driven watertight ship door systems from Tornesch in Schleswig-Holstein supplies vertical bulkhead sliding doors, transport hatches and shell doors in different sizes and designs for all four ships of the next generation of frigates and successors of the type F125. The technical conditions of the components imply certain challenges, including the high shock resistance.
Schoenrock already installed watertight and shockproof solutions in the F125 frigate, which have proven to be very reliable.
"In addition to the highest level of engineering know-how, Schoenrock Hydraulics also offers the proper combination of design and production under one umbrella and also covers the entire portfolio which we were looking for in this area," says Dirk Henneberg from Damen Naval, explaining the decision in favor of the northern German ship supplier. The total investment for the order is in the tens of millions and will be delivered in four packages per year starting from 2024. Most of the products are manufactured in Tornesch, installed primarily in Wolgast and Kiel. The business deal also includes connection options for other packages as well as subsequent services.
With the order, Schoenrock Hydraulics can ensure its goal of a significant increase in sales in the medium term as well as expand a not inconsiderable partial workload for its employees. Schoenrock's managing director Dr. Volker Behrens even considers an increase in the current staff to be possible.
In addition to products for installation on naval vessels, Schoenrock also manufactures watertight sliding doors, shell doors, and hatch systems for installation on research ships, cruise ships and ro-pax vessels for various shipyards worldwide.
Press contact:
Schoenrock Hydraulik Marine Systems GmbH
Dr. Volker Behrens
Lise-Meitner-Allee 11
25436 Tornesch
Tel.: +49 (0) 4120 799110 0
Fax: +49 (0) 4120 799100 0
E-Mail: This email address is being protected from spambots. You need JavaScript enabled to view it.