German – Australian Cooperation Will Open Doors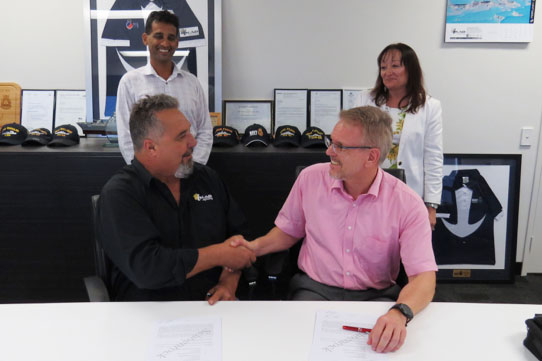 Front right, Dr. Volker Behrens, Managing Director, Schoenrock;
front left, Ivan Donjerkovich, Managing Director, IKAD.
In back – On the right, Katherine Shine, US Representative Managing Director, Schoenrock;
On the left, Ben Faulkner, Commercial Manager, IKAD.
SCHOENROCK HYDRAULIK MARINE SYSTEMS and IKAD Engineering of Perth, Australia, have signed a representative Agreement to market, build and service watertight sliding doors, shell doors and hatches to the Australian Naval and commercial sectors.
"Australian shipbuilding has a high reputation around the world, and IKAD has a strong record for in-country quality and service. So Schoenrock decided to launch a co-venture that will bring our advanced technologies to Australia," said Dr. Volker Behrens, Managing Director. "This will be a long term relationship that assures not only superior products, but superior after sales service."
"It is Schoenrock's plan to transfer technology, train IKAD staff and gradually increase the Australian content of Schoenrock's doors and hatches," said Ivan Donjerkovich, Managing Director of IKAD. "This will enable us to compete for contracts that we would not otherwise qualify for.
Schoenrock doors, hatches and even ventilation duct cover systems can be found in Viking River Cruise ships, naval vessels from Malaysia to France, offshore platforms in the US Gulf, and vessels built by Damen shipyard in the Netherlands.
IKAD has grown into a major Australian engineering company with a significant concentration in the Maritime industry. IKAD's expertise includes mechanical engineering, structural and piping engineering, surface treatment/preservation; as well as warehousing. Other Marine OEM representations feature Renk Maag, Heila Cranes and Thrustmaster of Texas.
"Together, we can introduce Schoenrock technologies to a new market exactly at a time that billions will be spent on new build construction," said Katherine Shine, US Representative Managing Director, Schoenrock. "What Captain would not want to have the ability to close a key door remotely from the bridge?"
"Cooperation like this is one key to the growth for both companies," said Rohan Green, Business Development Manager, IKAD. Cooperation Agreement Signing On 26 February 2018.
Kontakt:
SCHOENROCK Hydralik
Dr. Volker Behrens
Tel.: +49 40 866438-0
Fax: +49 40 866438-10
E-Mail: This email address is being protected from spambots. You need JavaScript enabled to view it.
Web: www.schoenrock-hydraulik.com